Our
Mission
We are committed to providing our customers with the highest quality jerk seasonings for their dishes.

Our
Vision
We strive to be the leading provider of jerk seasoning in the market, offering an amazing variety of flavors for every consumer's dishes.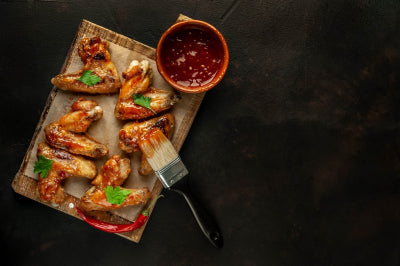 Our Story
During the days of slavery, many slaves escaped from the plantations and settled in the mountains. These slaves escaped without kitchen utensils and had to make their own. They had to devise ways to prepare their meals. One of the ways they cooked their meals was to make grills with green sticks, usually from the pimento (all-spice) tree, which gives the meat a distinct flavor. Burning coal would be placed under the sticks, and the meats would be placed on top of the sticks and roasted.
No one knows why it is called "JERK," but it is usually peppery-hot and spicy.
Jerk Seasoning became popular in the small village of Boston in the parish of Portland, Jamaica, W.I. It was concentrated in this village for many years, so although many Jamaicans have heard of jerk seasoning, they were mostly exposed to pot-roasted pork, which many Jamaicans called jerk pork.
In early 1975, after living in New York for five years, I returned to Jamaica for a two-week vacation. I was in Kingston and wanted to eat jerk pork but could only get pot-roasted pork. A few friends and I decided to go to Boston to get some real jerk pork. After eating the pork, the idea came to me that jerk pork would be a good business in Kingston. As soon as we returned to Kingston, I started to look for a location for a restaurant. There was a new shopping plaza on Constant Spring Road named Kings Plaza. I immediately rented a storefront for a restaurant.
When I returned to New York, I told my wife what my intention was, and in two weeks, I was back in Jamaica.
I opened "Jerk City Restaurant" in May of 1975 at King's Plaza. I hired one of the top jerk men from Boston, and his name was Ruddy. The pork was jerked on Retreat Drive, off Constant Spring Road, and sold at the Restaurant. That restaurant was unique and specialized in well-liked Jamaican dishes, which were not sold in restaurants. They included fried fish and bammy, ackee and codfish, mackerel and banana, corned pork and banana, and goat head soup. These are dishes that you can now get in almost all Jamaican restaurants and hotels in Jamaica and other parts of the world.
I was forced to sell my business in 1976 due to hardship brought on by political violence and a state of emergency, just after I opened a second location. It was moved, and the name changed to what is now the famous "Chelsea jerk".
Friends, who laughed at me when I told them that I was going to open a jerk pork and fried fish restaurant, are applauding me now for my foresight and vision. Today, jerk seasoning dishes are the most popular of Jamaican dishes, and jerk seasoning is a profitable industry benefiting Jamaica and Jamaicans worldwide.
This was the beginning of the commercialization of "JERK".
– Oscar H. Palmer